V13R Roadster Trike: What Is It? who cares, Natalie Paladin is in the passenger seat.
It has a Harley Davidson V-Rod power plant, three wheels and can ride in the HOV lane without a passenger…Motorcycle. It has a steering wheel, seatbelts and you don't need to wear a helmet…Automobile. It has Natalie Paladin in the passenger seat, need I say more?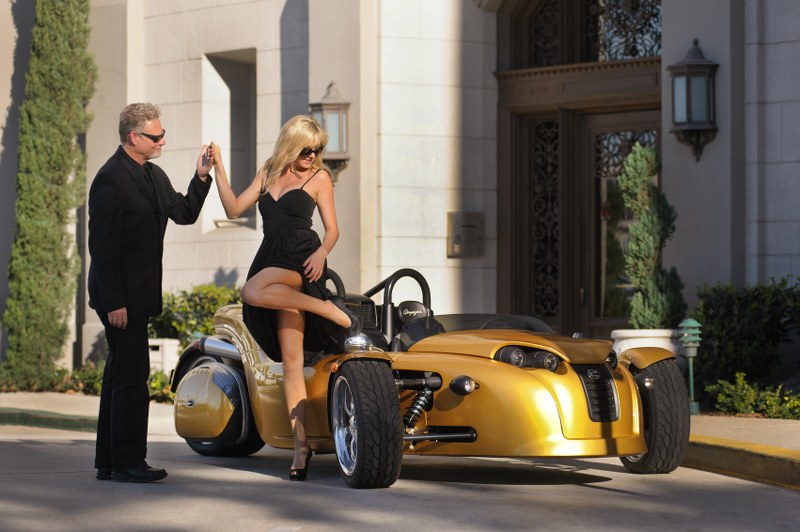 V13 R Roadster Trike
The V13 R Roadster Trike is Campagna Corporations second foray to its very unique product line. Campagna (pronounced Camp-agnyah likeLas-agna) a Quebec Montreal-based company released the T-REX, a high-strung three wheeled track beast with a 1,400cc Kawasaki 4-cylinder predator in 1995. For 2011 they've introduced another three-wheeled crossbreed after a 5 years R&D project, the V13R Roadster Trike powered by a Harley-Davidson/Porsche V-Rod 1250cc engine. The Revolution family V-Twin produces 125 hp and 84 lb-ft of torque, and it's connected to a 5-speed sequential gearbox. Its power-to-weight ratio of 9.47 lb/hp is close to that of a Porsche Boxster S. Compared with the T-REX, it rides on a longer wheelbase with its stretched-out swingarm, and bit longer overall. Almost identical in width and height, although the V13R weighs about a hundred pounds more weighing in at 1,156lbs.
screams of joy
Natalie liked the reclining position and side by side seat configuration and even said the seat was comfortable although I could use a bit more cushion. The cockpit is windy, noisy and it's difficult to converse at freeway speeds. We hit the lazy curves of Silverado Canyon and discovered V13R's true nature, visceral and completely connected to the earth at 90mph. A wider front wheel width than a corvette, with unequalled opposed triangular arms with coil over shocks this beast pulls a staggering 1.08Gs. A corvette pulls ,96 Gs, a Lamborghini pulls 1.01 Gs in the corner. The massive triangular contact rubber patch of 205/45ZR17 tires up front and 205/35ZR18 single tire at the rear coupled with an incredibly low stance and wide front end width result in virtually no roll. Winding roads is where this roadster wants to rock and roll. You can easily outrun sport bikes in the turns. This beast will lunge into and out of corners like nobody business and Natalie's heart was a flutter. Glued to the road we knocked through the twisties of hwy 74 as she put her arms straight up and screamed with joy as if on a roller coaster, Miss Paladin was at home here.
[/column]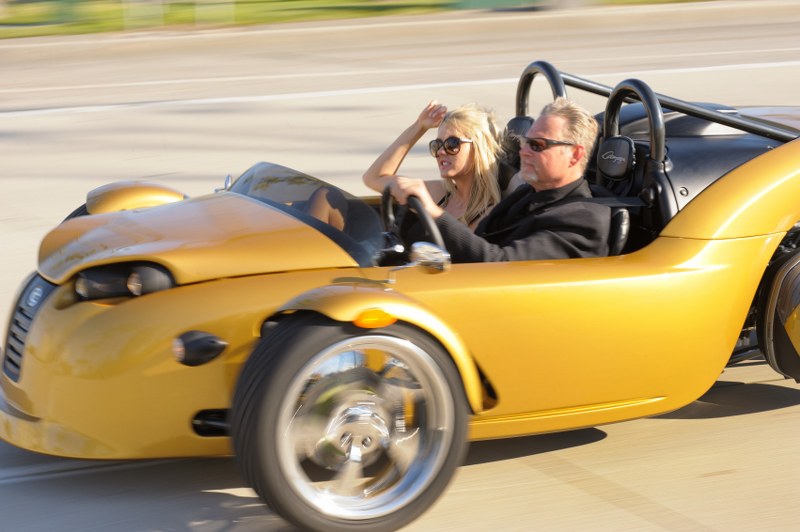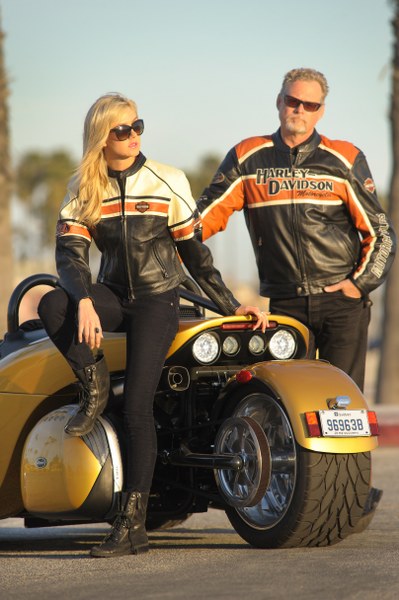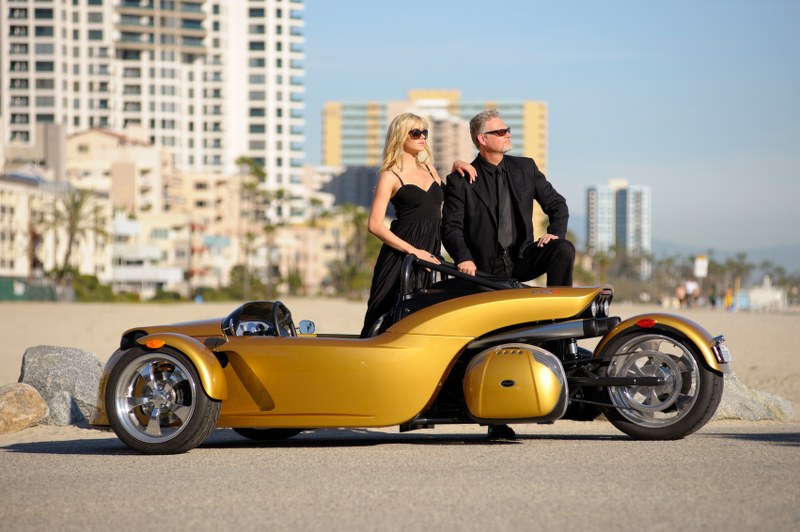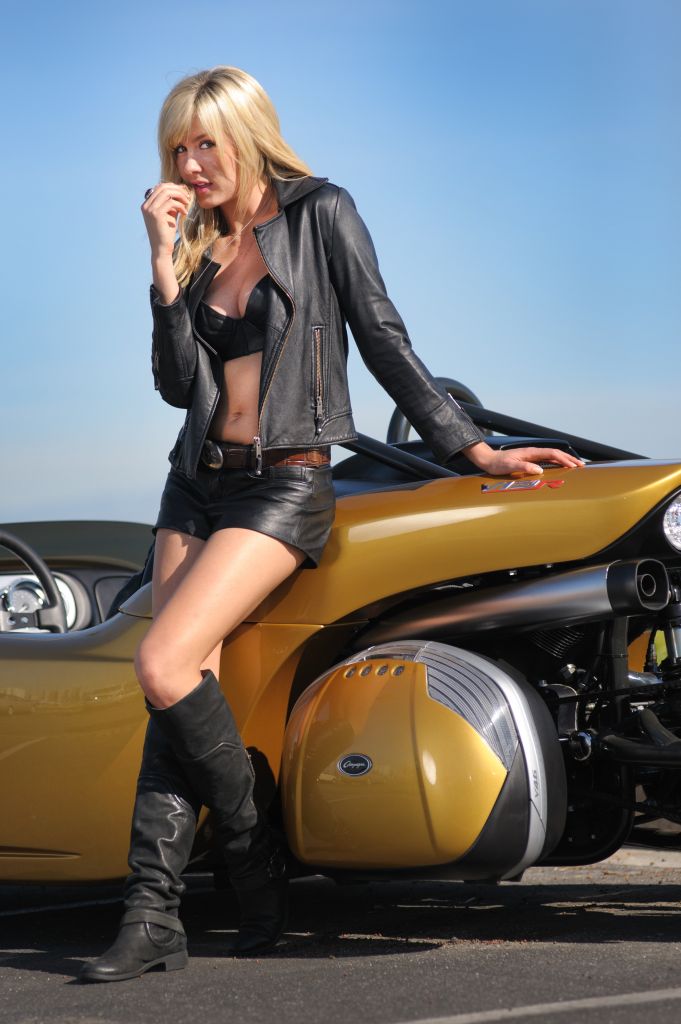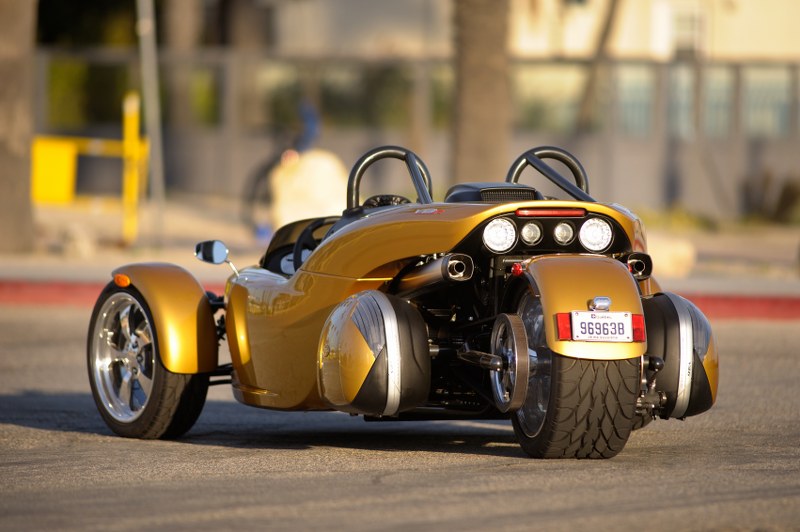 Paladin and Bond, James Bond
Natalie and I changed into evening attire and immediately realized this was apropos for city driving, it just felt right. A James Bond, Pussy Galore kind of right. We rode down PCH to the next location; the weather was picture prefect, a cool breeze lightly tossing Natalie's long blond hair, the sun caressed our faces like falling feathers. People around us stopped stone cold to stare. Natalie smiles and coos, 'this is absolutely amazing". Were just driving, it's just another Thursday afternoon in Long Beach, but I had to agree. For fifteen minutes as we lazily skirted the California coast in silence I knew what it felt like to be Mr. Bond. Piloting an exotic vehicle, a dangerously beautiful woman at my side, Natalie's furtive glances as she caringly caressed the supple black leather intimated she was falling in love…with the V13R. That's when I fully understood the other side of the V13R. Panther-like, its a fearless predator, skillfully attacking the mountain curves devouring every corner yet at rest; this beast is stunningly beautiful, exotic and in fact exudes sheer class. There is nothing rational about the V13R Roadster Trike and it can't be explained in words or photographs, it has to be experienced.
Natalie did after all turn out to be dangerous, she points to a gap in the barriers for the track being set up for the Toyota Grand Prix of Long Beach and suggested we race around it. Sure, why not, we started knocking over cones and pushing closer to the barrier walls each lap when the sound of a police siren blares and she again points to an escape a gap and we shoot back onto a side street. She makes a great bond girl. All that's good about the V13R was bringing out all that's bad in us and we loved every minute.
So what really is the Campagna V13 R Roadster Trike? It's the most unique, eye-catching, three wheeler on the planet. When seated in this baby your stimulus switch is either turned on or it's off and if this frightens you, return to the safety and comfort of your sedan. If this excites you, there are very few street legal vehicles that come close to what the V13R has to offer. The V13R is and I'm-having-the-time-of-my-life-and-not-a-bit-shy-doing-it machine. Bond Girl not included.
natalie Paladin AKA bond girl
---